Troy Cook, Author
47 Rules of Highly Effective Bank Robbers
and
The One Minute Assassin

BOOK OF THE YEAR
ForeWord Magazine Finalist

ANTHONY AWARD Finalist
Best Paperback Original

MACAVITY AWARD Finalist
Best Debut Novel
WINNER, Allbooks Reviewer's Choice Award
for Best MysteryA #1 "KILLER PICK"
by the
Independent Mystery Booksellers Assn.LEFTY AWARD Finalist
for Best Humorous Mystery
WINNER, Silver Evvy Award for Best Novel by Colorado Ind. Publishers Association

RIO Award of Excellence Finalist
for Best Debut Novel

David G. Sasher Award Finalist
for Best Mystery
Published by Capital Crime Press. Now available at all bookstores and online retailers!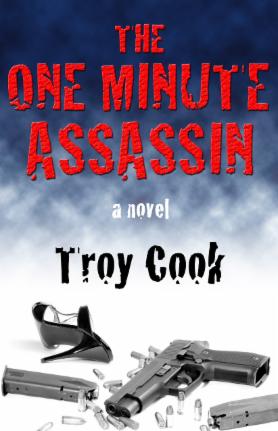 Rave reviews for The One Minute Assassin
and 47 Rules of Highly Effective Bank Robbers:
"Stunning". . ."A literary jewel". . ."Remarkable". . ."Ground breaking". . ."Will be talked about for years". . . "One of the most intriguing and original ideas for a mystery novel" . . ."Fresh". . . "One of the funniest reads of the year". . . "This novel should be on all crime, mystery, or humor lover's list of summer reads." (click here for reviews)
47 Rules of Highly Effective Bank Robbers:

What if your father raised you to be a bank robber? Instead of Barbie & Ken, you played with Smith & Wesson? And now you're twenty-two and ready to flee the nest, but your homicidal pop won't let you go?
That's the simple part of Tara's life. When she and her dad score their biggest heist ever, Tara's life of adventure takes a frightening turn. They're pursued by dangerous ex-partners and a special task force of federal agents. That's when Tara falls for the son of the local sheriff.
Like her daddy says, "It's always something."
CHECK OUT THIS BOOK TRAILER for 47 RULES



The One Minute Assassin:

During the strangest and wildest election in California history, one candidate for governor tries to kill his way to the top, figuring if money, power, and snake-oil charm won't get him elected, why not try murder? After all, being in charge of the eighth largest economy in the world is worth a little bloodshed, right?

Making matters worse, the culprit can hide among more than one hundred highly unusual candidates—all of whom are now suspects. Toss in amateur assassins, a spicy hot reporter, and the Russian Mafia—and that's where ex-P.I. John Black comes in. John's politically active sister has a shot at being elected the first female governor of California. When she becomes a primary target, John charges into the world of crime and politics in an attempt to save her.